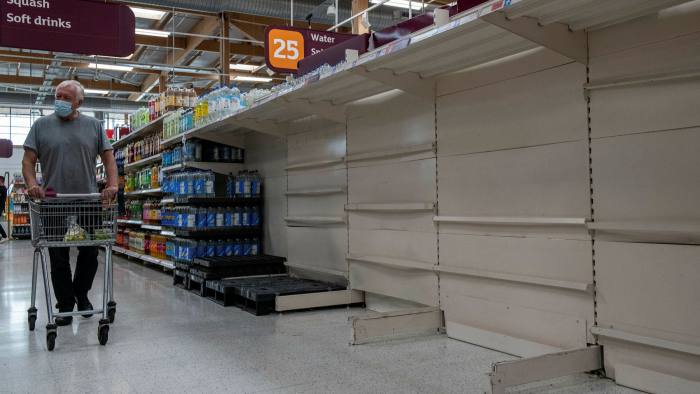 Please use the sharing tools found via the share button at the top or side of articles. Copying articles to share with others is a breach of FT.com T&Cs and Copyright Policy. Email [email protected] to buy additional rights. Subscribers may share up to 10 or 20 articles per month using the gift article service. More information can be found here.
https://www.ft.com/content/c7f19120-9442-497b-a328-36b22781006e
The UK's supply chain crisis will continue into 2023 and beyond, driving up inflation and delaying Prime Minister Boris Johnson's domestic policy agenda to "level up" the economy, a broad coalition of business groups warned on Tuesday. The leaders from a range of sectors told MPs that small businesses would bear the brunt of labour shortages and price rises that have hit swaths of the economy this year, including haulage, hospitality, food and drink, construction and autos. "Six months ago our businesses all thought this was transitory, now every business I know expects this to last into 2023 and 2024. Every single one," Ian Wright, chief executive of the Food and Drink Federation told the House of Commons Business, Energy and Industrial Strategy Committee. With materials costs rising 30 to 40 per cent as the global economy struggles to reopen after Covid-19 shutdowns and international freight rates up 10-fold from pre-pandemic levels, manufacturing groups said inflation was now "baked in" to the UK economy. Wright said inflation in the food and hospitality sector was running at a "terrifying" 14 to 18 per cent. Stephen Phipson, chief executive of Make UK, the manufacturers' organisation, said that while demand was returning strongly, companies were struggling to fulfil orders and were facing "really serious issues" in terms of price increases and component availability. "What we have seen in the last quarter is companies starting to pass those costs on . . . which does imply that inflation is now more or less baked in. This is not a transitory inflationary demand," he added. He warned that it was a "matter of months, probably six months, before we start seeing failures in business", particularly among small and medium-sized enterprises that served big manufacturers. Asked what impact this would have on the government's levelling up agenda, which is central to the Conservative party's re-election pitch ahead of a poll expected in 2023 or spring 2024, Phipson replied that "it just means the whole programme will take longer than we wanted it to". The business organisation chiefs were unanimous in complaining about the government's failure to take a strategic approach to tackling labour shortages that they said were now a "structural" feature of the economy and would not pass quickly. Under pressure from business, the government has in recent weeks announced a three-month visa scheme to cover lorry drivers and meat workers, but the groups said the "save Christmas" approach completely failed to address the scale of the shortages.