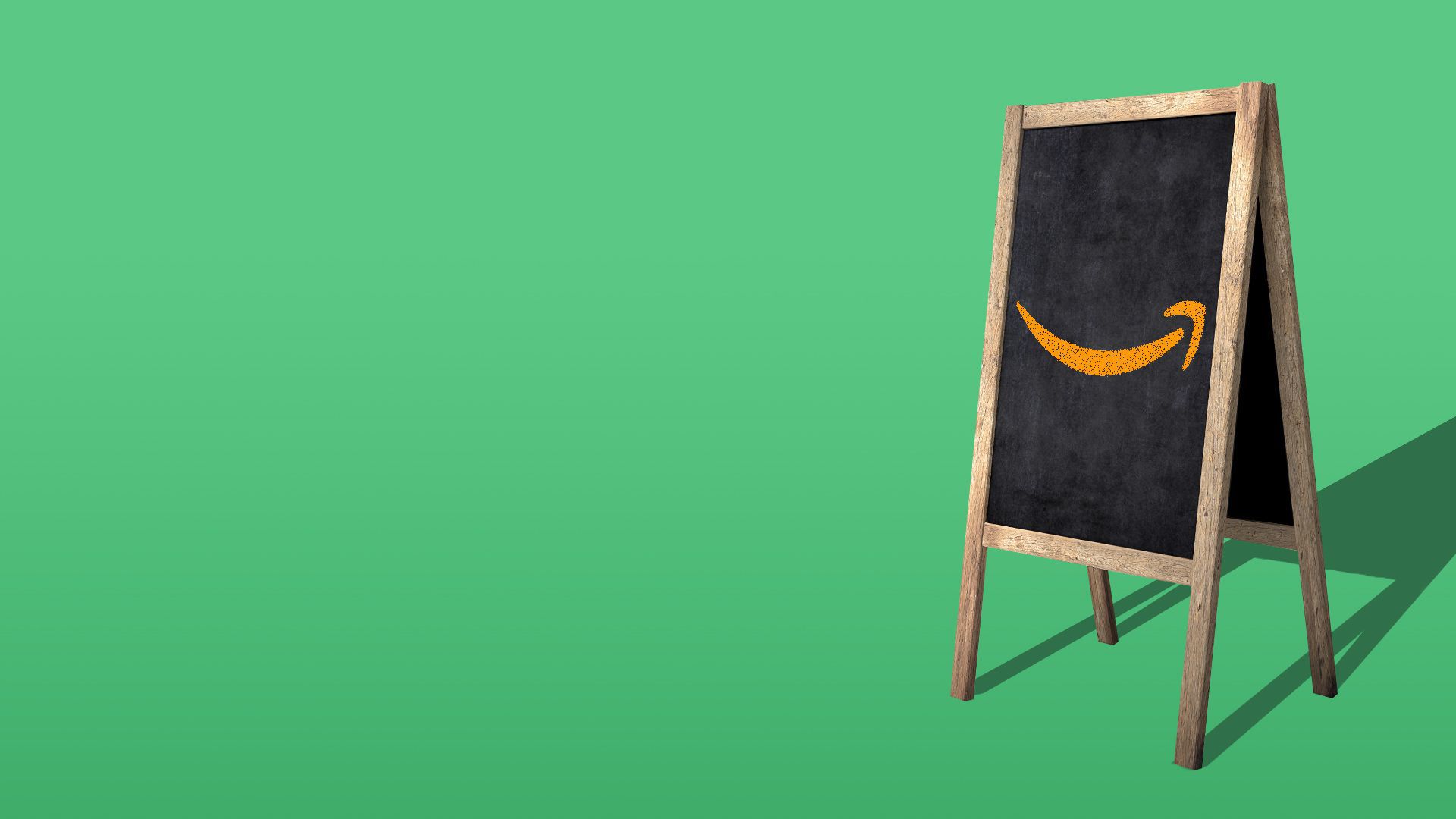 Amazon is touting the success of small sellers on its platform through the pandemic — and warning that antitrust legislation could jeopardize that success and blow up its open-marketplace model.
Why it matters: As online shopping became a lifeline for both businesses and consumers during the pandemic, Amazon reaped big benefits, but also saw its regulatory risk grow.
Driving the news: In a new report Tuesday ahead of the company's annual seller conference, Amazon said more than 200,000 new sellers joined its U.S. store in 2020, a 45% increase over the previous year.
U.S. sellers averaged $200,000 in sales, up from about $170,000 the year before. The number of sellers who topped $1 million in sales increased by 15%.
Nebraska, South Dakota, and Iowa were among the top ten states with the fastest-growing sales. That's a sign that sellers in more rural areas are turning to the online marketplace during the pandemic, Dharmesh Mehta, Amazon's vice president of worldwide customer trust and partner support, told Axios.
What they're saying: "Sellers, in spite of all the challenges that the pandemic has brought, have really thrived in our store and continued to grow super fast and actually faster than Amazon's own retail business," Mehta said.
The other side: As commerce moved from brick-and-mortar stores to online marketplaces, both Amazon and merchants who sell on the platform have benefited, but sellers operate at a disadvantage, Ethan McAfee, founder and CEO of Amify, a company that helps brands sell on Amazon, told Axios.
"To say selling on the Amazon marketplace against Amazon is even remotely fair is a joke," McAfee said.
Sellers on Amazon have seen the rules swiftly change, have had their accounts shut down without warning and have seen Amazon copy their products, Stacy Mitchell, co-executive director of anti-monopoly think tank the Institute for Local Self-Reliance.
"Amazon has taken small businesses hostage, and now it's threatening to shoot them," Mitchell told Axios.
"What happens with independent businesses is if they want to reach the online market, they have little choice but to sell on Amazon. They don't have options."
Amazon is facing renewed criticism after The Markup and Reuters reported last week on ways Amazon favors its own products over those of its third-party sellers.
Leaders in the House Judiciary Committee cited those news reports in a letter Monday questioning whether Amazon executives — including former CEO Jeff Bezos — lied or misled lawmakers during congressional testimony.
"Amazon and its executives did not mislead the committee, and we have denied and sought to correct the record on the inaccurate media articles in question," an Amazon spokesperson said in a statement in response to the lawmakers' letter.
Amazon says it bars the use of individual seller data in the development of its own products, investigates allegations of violations, and delivers search results without regard to the product's source from Amazon or an independent seller.
Yes, but: Amazon has become an "essential intermediary" for businesses, especially during the pandemic, Sarah Miller, executive director of anti-monopoly group American Economic Liberties Project, told Axios — and that makes the company's power as both the operator of the marketplace and a competing seller even more problematic.
"Just because Amazon grew to become a dominant gatekeeper across the online economy while policymakers were asleep at the wheel doesn't give them a license to steal from the businesses that are dependent on them," Miller said. "And that's essentially what is happening."
What's next: Bipartisan legislation in the House and Senate would prohibit Amazon from favoring its own products in a way that harms competition.
Amazon warns that if some of those measures become law, it could jeopardize the ability of third parties to sell on its platform.
"We believe that the antitrust legislation packages that have been introduced could prevent us from selling products from our third-party selling partners at all, alongside our own," Mehta said.
"There's a path where sellers may not be able to sell in our store if certain legislation is passed, and that's not an outcome we would ever want."
Reality check: Third-party sales account for 60% of sales on Amazon. McAfee said he's skeptical the company would abandon that line of business.
"I think it's unrealistic to think that Amazon would do anything to dramatically change the workings of the Amazon third-party marketplace," he said.